Interesting facts –
Multimedia
The Face of God
Rainer Müller

The Secret of the Byssus Cloth of Manoppello. A film with Paul Badde (Vatican correspondent, writer of non-fiction), Sr. Blandina and Sr. Petra-Maria. A film that explores the depths of the divine mystery (German, English, Italian and Polish).
Josanto-Media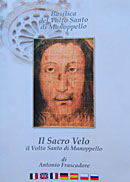 Il Sacro Velo il Volto Santo di Manoppello
Antonio Frascadore

DVD, available in the shop of the Basilica of the Holy Face in Manoppello in Italian, English, French, German, Spanish, Polish and Russian.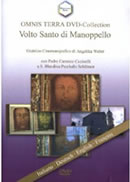 The Holy Face of Manoppello
Angelika Weber

This film is also included on the DVD "Pope Benedict XVI. and the Holy Face". It shows the Holy Face, a unique relic of Christendom, preserved in Manoppello. This village in the Italian region of Abruzzo has been an important place of pilgrimage for 500 years now. It is said that the Holy Face is an archetypal image created by God.