Our Lady of Guadalupe –
Not made by human hands – a comparison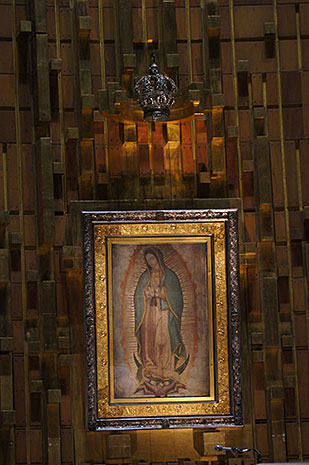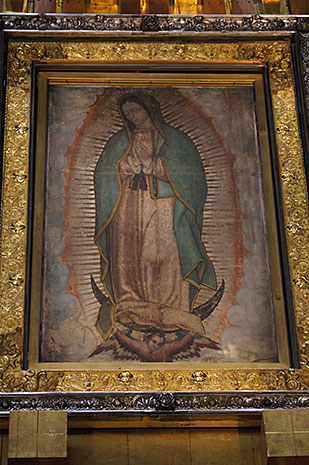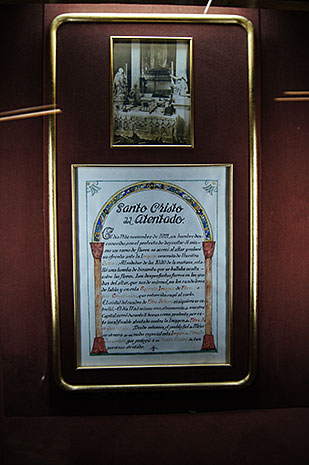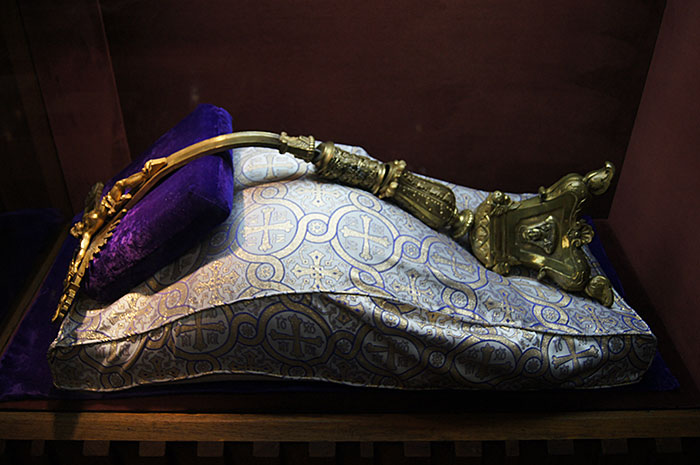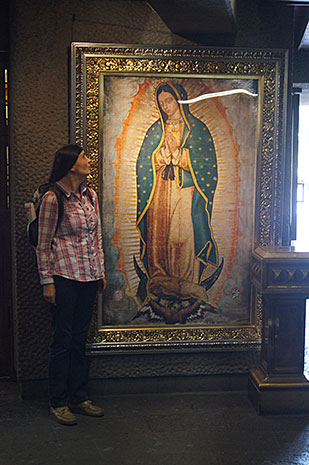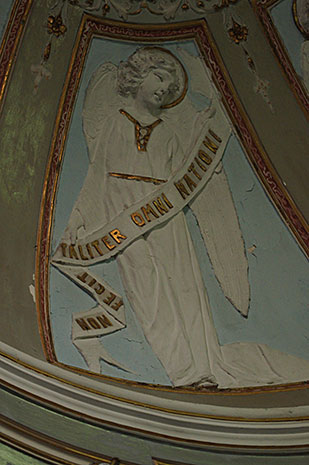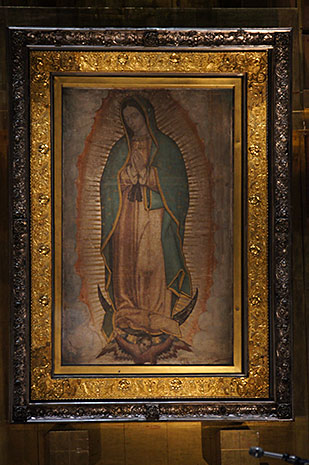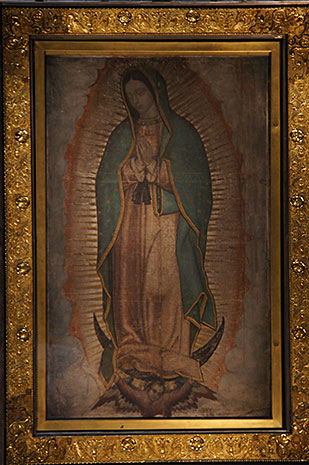 Basílica de Santa María de Guadalupe
With their frontal perspectives, the shroud of Turin and the sudarium of Manoppello resemble photographs or biometric images. In contrast, the image of Our Lady of Guadalupe in Mexico looks much more like a painting, like the images of Mary in art. Oil, tempera, watercolors and processed tempera – a wide variety of painting techniques were apparently used, but no brush strokes are visible.
While the particular quality of the materials chosen for the grave clothes was a sign of reverence, the image of the Virgin of Guadalupe is on a substrate of inferior quality, which has a relatively short service life of 20 years at most. The tilma, worn by Juan Diego as a cloak, was made of a coarse fabric derived from the fibers of the maguey agave. In order to paint a picture on such material, a coat of primer is absolutely necessary. However, this coat is missing entirely, so that the motif is also visible from the other side of the tilma. Several surface irregularities were evidently used to give the face depth. Despite this, the surface is of a smoothness researchers cannot explain. While the veil of Manoppello can be viewed from both sides, the image of Our Lady of Guadalupe is transparent only on one side; a green stain on the back of the tilma is not visible on the front.
Like the other two images, this could be also be a life-sized representation: The delicate figure shown on the two-part cloak, which measures approximately 1.67 x 1.05 meters, is 1.43 meters tall. From a distance the image appears larger and clearer.
In contrast to the shroud and the sudarium, the miraculous image of the Virgin of Guadalupe has been accessible to the general public and was not subject to special protection for a long time. Despite adverse weather effects due to location, candlelight, soot and incense, the touches of innumerable pilgrims, an accident with acid and an attack, not only the fabric but also the colors are surprisingly well preserved. The pink hues are extraordinarily permeable to infrared light and no organic or mineral dyes were found. As in the sudarium and butterfly wings, the colors that appear to change depending on the angle of viewing are generated by refraction.
The eyes in this acheiropoíetos ("not made by human hands"), which appear to be almost closed from a distance and are the same color as those depicted on the veil of Veronica, are of particular significance. Various phenomena discovered in the human eye in the 19th century with regard to light reflexes (Helmholtz) and reflections (Purkinje-Samson) have been documented in the eyes of the image of Our Lady of Guadalupe. Furthermore, the scene of the image development is reflected in her pupils as in the eye of a living person, with corresponding distortions due to astigmatism and a shift in the second eye. Numerous people present were identifiable.